INTERVIEWS
ARTICLES
Finding Carnacki the Ghost Finder
OUR BOOKS
INFORMATION
REVIEWS
809 Jacob Street, by Marty Young
After The Bloodwood Staff, by Laura E. Goodin
The Art of Effective Dreaming, by Gillian Polack
Bad Blood, by Gary Kemble
Black City, by Christian Read
The Black Crusade, by Richard Harland
The Body Horror Book, by C. J. Fitzpatrick
Clowns at Midnight, by Terry Dowling
Dead City, by Christian D. Read
Dead Europe, by Christos Tsiolkas
Devouring Dark, by Alan Baxter
The Dreaming, by Queenie Chan
Fragments of a Broken Land: Valarl Undead, by Robert Hood
Full Moon Rising, by Keri Arthur
Gothic Hospital, by Gary Crew
The Grief Hole, by Kaaron Warren
Grimoire, by Kim Wilkins
Hollow House, by Greg Chapman
My Sister Rosa, by Justine Larbalestier
Path of Night, by Dirk Flinthart
The Last Days, by Andrew Masterson
Lotus Blue, by Cat Sparks
Love Cries, by Peter Blazey, etc (ed)
Netherkind, by Greg Chapman
Nil-Pray, by Christian Read
The Opposite of Life, by Narrelle M. Harris
The Road, by Catherine Jinks
Perfections, by Kirstyn McDermott
Sabriel, by Garth Nix
Salvage, by Jason Nahrung
The Scarlet Rider, by Lucy Sussex
Skin Deep, by Gary Kemble
Snake City, by Christian D. Read
The Tax Inspector, by Peter Carey
Tide of Stone, by Kaaron Warren
The Time of the Ghosts, by Gillian Polack
Vampire Cities, by D'Ettut
While I Live, by John Marsden
The Year of the Fruitcake, by Gillian Polack

2007 A Night of Horror Film Festival

OTHER HORROR PAGES
The Dark Ages: A History of Horror
The Road
by Catherine Jinks. Allen & Unwin, 2004
Reviewed by Kyla Ward, 2004
"Do you think we're like those people? The ones who disappear and never turn up again? Missing persons?" Her questions became shriller, more panic-stricken. "Like the Bermuda Triangle? Like Picnic at Hanging Rock? Like those bodies they find, after years and years, and no one knows what happened, and everyone thinks someone killed them?" She began to wring her hands, her gaze turned inwards. "It's something like that, I just know it! Oh my God! Oh my God!"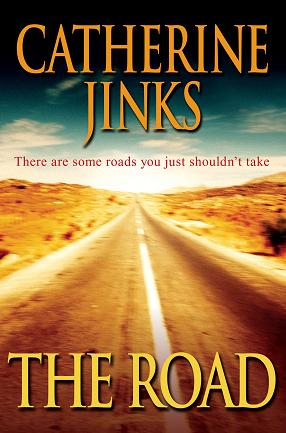 Catherine Jink's latest novel is a welcome sight indeed. A horror story for adults, set in Australia by an Australian author, released by a major publisher as an attractive trade paperback. You won't find it in the "horror" section though, assuming your local bookshop has such a thing; you will find it in with the regular fiction releases, to which the cover is appropriate. But make no mistake, this is full-blown, supernatural horror.
The story begins with Grace Stone and her young son Nathan, urban aborigines who have retreated to her great uncle's property, which lies off the Silver City Highway somewhere between Coombah and Broken Hill. You might glimpse the letter box as you drive past in your truck at 87 K.P.H. Or in your family saloon, the whining of the kids as constant and monotonous as the humming of the tyres on the asphalt. But of course you keep going. And going. And going...
After the initial shock of the Grace episode, the dramatis personae increases steadily, as unrelated people in separate vehicles realise that something is very, very wrong. It makes for a fascinating set of characters, all with different reasons for being out on this stretch of road at this particular time. All are created deftly, with just the right amount of detail to bring them to life, and brought together inevitably and (un)naturally. The author switches viewpoints frequently, providing variety within the repetition which is essential to her plan. And no one character is right all the time, or has all the clues. Apart from anything else, this is a neat exploration of how groups form and collapse under escalating stress.
The author's plan, of course, is to get the reader on the edge of her seat and keep her there. For most of the distance, there I was. Every time the action seemed about to break down (always a danger with cars), a new arrival, a character's decision, or some wonderfully grotesque apparition carried me along. From the reader's perspective, which is privy to all viewpoints, the suspense just kept building and building. What some of the characters didn't know, particularly about the other characters, was almost unbearable at times.
The supernatural manifestations were also excellent. Growing out of the general detail, with strategic use made yet again of changing viewpoints, they have all the impact of the crow that at one point manages to completely disable a land rover. This is not quiet horror!
However, when the plot quite literally made a sharp turn, I have to confess I was thrown. The narrative was certainly resolved, but I was left with questions, a feeling of unfulfilled promise and unplumbed depths. Perhaps this is inevitable for an interloper in this land. In the final reckoning, none of the characters had really done more than scratch the surface -- even that particular one whose insanity seemed to contain flashes of insight. And none of them, not even Grace, were aware of the Aboriginal myth presented to the reader as a framing story, which clearly informs events.
Presenting an intensely hostile landscape and invoking that peculiarly Australian penchant for driving vast distances, The Road runs somewhere to the left of Hanging Rock (as observed by "Georgie", above) and The Cars That Ate Paris might be lurking just over the horizon. However, with its consistently excellent writing and original use of both setting and imagery, this book is happily independent. I have no doubt it will satisfy those who pick it out of the general fiction section, as well as intriguing those who understand my references to classic Australian horror.